Le "Gard rhodanien" : an enviable location
The eastern part of Le Gard bordering on the Rhône, the so-called "Gard rhodanien" enjoys an ideal location near the sea, mountains and large go-ahead urban areas, as well as easy access. A very popular area offering varied accommodation.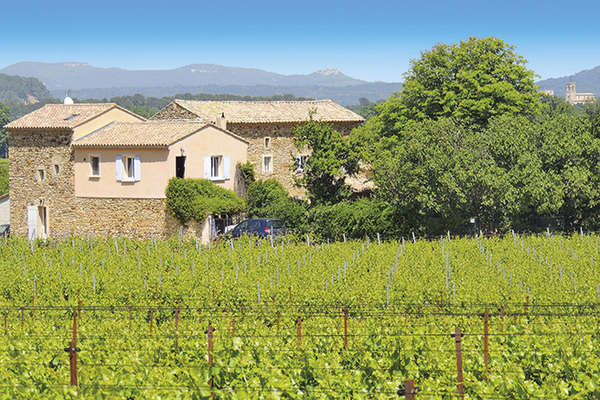 This vineyard property of approx. 44.45 acres (including 34.6 acres awarded the AOP and IGP labels) comes with a renovated "mas" of 470 m2. 1.473.000 €. Vinea Transaction - Vignobles Investissement (04 90 32 04 29).
Based for over 20 years in Bagnols-sur-Cèze at the heart of the "Gard rhodanien", the ERA Eurofoncier agency specializes in property transactions within a radius of about 15 kilometres. "A well-balanced area, as it can rely on both local and regional employment - being close to Nîmes, Avignon, even Aix-en-Provence or Marseille -, and the market for second residences, with the Cévennes and the sea (Saintes-Maries-de-la-Mer, Le Grau-du-Roi...) both close by," says manageress Pascale Geniès. Prices range from 60,000 € for studios to 150,000 € for 3 bedroomed apartments, while houses cost from 90,000 to 400,000 €. "Declining prices which have nevertheless held steadier than elsewhere, thanks to the presence of job pools and a limited number of new developments." Prices for building land have remained particularly stable : about 100 to 220 € per sq. metre. "Our clientele mainly consists of people aged 30 to 60 who are looking for their main home and have already sold a property, so do not need a mortgage. Then come young retirees, couples from other regions and a few foreign buyers. Not forgetting investors hoping to take advantage of low prices."
Based in Châteauneuf-du-Pape (Vaucluse), the Vinea Transaction and Demeures du Grand Sud agencies also cover the "Gard rhodanien". The first specializes in sales of lovely vineyard properties, the second focuses on desirable residences starting from 600,000 €. According to manager Michel Veyrier : "This is an area with different ambiances and environments, between sea and mountains, sharing the cultures of both Provence and Le Languedoc, whose well-preserved architectural heritage is widely appreciated. It also enjoys very easy access thanks to the A9 motorway and its closeness to Marseille Airport and the TGV station in Avignon." The vast majority of the agencies' sales lie between 700,000 and 1.5 million euros, with more expensive properties currently struggling to find takers (and thus obliged to lower their prices). "By way of example, we recently sold a "gentilhommière" (prestigious country house) in Remoulins offering living space of 350 m2 in 5,000 m2 of grounds with a pool and outbuildings, for 880,000 €. Another property comprised of two "mas" giving total living space of 500 m2 with 34.6 acres (14 hec­tares) of AOC Côtes-du-Rhône Villages vines also changed hands at 1.2 million euros in Laudun-l'Ardoise." For this kind of wine, one can in fact expect to pay 25,000 € per hectare on average. "For AOC Tavel and Lirac, prices are higher because they are "crus", or finer vintages." Michel Veyrier's French clients are growing in number : "Foreigners seem discouraged by today's complicated tax situation".
You will also like