La Rance : a pleasant riverside lifestyle
The banks of the Rance, a coastal river flowing through Les Côtes-d'Armor and L'Ille-et-Vilaine, provide a lush, well-preserved setting between land and sea. A corner of paradise offering a good alternative to the shorelines of Dinard and Saint-Malo.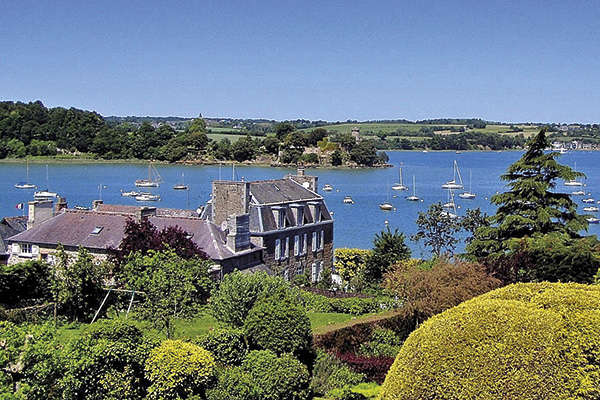 This typical house of 145 m2 in Pleudihen-sur-Rance benefits from a privileged location. 399.500 €. Côte & Rance (02 99 58 40 11).
The river Rance rises in Collinée (Côtes-d'Armor) and flows into the English Channel 100 km further on, between Dinard and Saint-Malo, then forming an aber (deep estuary), a river mouth invaded by the sea. Forming small bays, the river banks thus offer unique scenery. Most of the estuary is in fact a protected nature zone. The area includes well-known communes such as Taden and Saint-Suliac, listed as two of the loveliest villages in France, but also Dinan, a town of art and history, and several small picturesque fishing villages.
Martine Tesnière and Jeanne-Elisabeth Daugan, manageress and negotiator for Armor Invest Immo, an agency spec­ializing in the banks of the Rance, are based in La Vicomté-sur-Rance, a village with less than 1,000 inhab­itants 7 km from Dinan. "After focusing particularly on the town, we opted for its north/north-eastern sector and the banks of the Rance because of their high-quality living conditions. Encompassing both the countryside and riverbanks, the landscapes are magnificent and very varied. And peace and quiet reigns here which can't be found in the seaside resorts on the coast." Another asset : prices are lower than in Dinard or Saint-Malo, "even though some communes are now highly-prized, including Plouër-sur-Rance". They range from 80,000 € for a barn to renovate in 1,000 m2 of grounds, the most widely sought-after property, to 1.4 million euros for a château on several acres of land. "On the banks of the Rance one finds manor houses and other outstanding properties, currently hard to sell, but also typical stone houses, "longère" farmhouses, "néo-bretonnes" built in the 1970's and now very popular, more recent estates and blocks of apartments." Unusual homes sell like hot cakes ; for example, a detached house of 80 m2 in a quiet spot near the water, which sold for 150,000 € in just three days. Building plots can be had from 35,000 to 45,000 €. As for properties enjoying a view of the Rance, they start at 400,000 €.
Martine Virgili Gauté, manageress of Côte & Rance, is based in Châteauneuf-d'Ille-et-Vilaine, a commune with over 1,300 residents just 10 minutes from Saint-Malo, "which has the advantage of standing at the crossroads between the main roads Saint-Malo/Rennes (D137) and Dol/Dinan". An expert on the Saint-Malo coastline and specializing in the banks of the Rance for the past 17 years, she covers the left bank as far as Dinard, and the right bank which includes Pleudihen-sur-Rance, La Ville-ès-Nonais, Saint-Suliac, Saint-Père and Saint-Jouan-des-Guérets. In this area offering wonderful views and original villages, the banks of the Rance are characterized by "peacefulness, beautiful scenery, a lovely blend of colours, changing light, beaches and sailing harbours. Not forgetting that they prop­ose various activities such as pleasure boating or hiking, horse-riding and mountain biking along the tow-paths". Her latest sales include a small 3-bedroomed fisherman's house in Saint-Suliac, in immediate proximity to the Rance but without a garden, priced at 150,000 €, and a stone villa of approx. 120 m2 with a garden of 400 m2 and view of the Rance, at 420,000 €. "Prices vary widely depending on the property's location, character and quality. Naturally, a garden, garage or view will also affect the price." Martine Virgili Gauté has a diverse clientele : first-time buyers and those looking for main or holiday homes (especially from Paris and Rennes). Their budgets range from 120,000 to 1 million euros.
You will also like