La Côte d'Amour, homes for personal enjoyment
Situated between Le Traict de Pen Bé and Saint-Nazaire, La Côte d'Amour encompasses the entire Guérande peninsula and the seaside resorts of Pornichet, La Baule, Le Pouliguen, Guérande... All micro-markets with very different characteristics.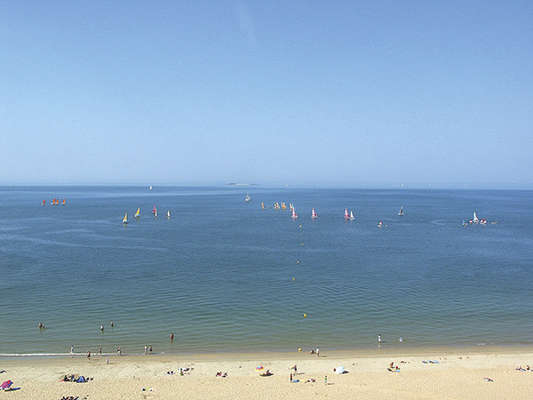 This 1-bedroom apartment of 45 m2 in La Baule benefits from a terrace of 10 m2 facing the sea. In very good condition, it comes with a cellar and secure parking place. 315.000 €. Christophe Pernaud Conseil Immobilier (02 51 75 02 95).
The Côte d'Amour's poetic name appeared in 1911 when a local newspaper held a competition to find a good tag for this part of the coast. La Baule and Pornichet have long been the most highly-prized addresses among retirees (accounting for almost two-thirds of buyers) in search of second residences.
Property consultant Christophe Pernaud is an independent agent specializing in the market on the peninsula since 1991. Originally handling notarial work and private asset management, this expert giving priority to quality rather than quantity establishes close relationships with all of his clients. He says that today's market here is active but nevertheless slower than before. "As the bay of La Baule is a market largely focused on second residences acquired for personal enjoyment, it's rare that buyers need to find accommodation in any urgency. In a climate of economic uncertainty, buyers and sellers sit and watch each other. The result is that properties stay on the market for a very long time, with offers proposed that are occasionally very low." He mentions for example a pleasant 4th-floor apartment on the front row in La Baule : between the price required by the owner when he decided to sell and the acquisition price one year later, there was a difference of about 15 %. "When a seller over-sestimates his property, the regular follow-up I provide through detailed reports of visits and precise analyses enables him to adjust his price, if necessary, to reflect market realities and the effectiveness of his offer in the face of demand," explains this specialist, who pays particular attention to the communication strategy adopted for each specific property. "I advertize a property in a highly targetted manner. If it gets too much exposure, it loses its appeal. This strategic approach to presenting properties to their best advantage allows me to conclude quality transactions for virtually all of the properties that are entrusted to me on a sole agent basis."
The star property in La Baule, Pornichet or Le Pouliguen ? The "Bauloise" house built in the 1930's, offering three bedrooms and a lovely lounge, ideally located in immediate proximity to the beach. This is the dream property of the majority of buyers, from Paris, Brittany, Nantes, Angers... Though these houses are so rare that when one comes up for sale, its price can soar dramatically ! Otherwise, the starting price for a pleasant house on the Côte d'Amour is around 500,000 €. But at this level, there are inevitably a few concessions to be made. According to Françoise Apert of the Beaulande agency : "The driving force behind the Côte d'Amour is still La Baule. Most buyers live here several months a year. They are looking for a pleasant and practical life-style, where everything can be done on foot". By way of example, she mentions a new development benefiting from an ideal location, which quickly sold out on plans. Other examples of rapid sales handled by this agency : two charming "Bauloise" houses in need of renovation. In the Casino neighbourhood, they sold at prices between 600,000 and 800,000 €. On the other hand, in the case of communes further out, the market becomes more complicated : even properties of genuine charm struggle to find takers, as demonstrated by a ravishing cottage in Guérande, up for sale for the past two years. "It was originally placed on the market somewhere between 800,000 and 900,000 €," says Françoise Apert. "Today, despite a price-tag of 650,000 €, it still gets very few visits." This observation is shared by Alexandre Rousseau, director of the agency Le Repère Immobilier. "Nowadays, the property markets of La Baule and Pornichet are pretty much equal. However, on the immediate outskirts of Pornichet you can find properties such as small houses on estates, priced at around 250,000 €. This type of offering is virtually impossible to find in La Baule. Then again, the further one gets from the two seaside resorts, the market is radically different, offering more affordable homes likely to attract first-time buyers." For this estate-agent, 2014 is off to a good start. "We are finally succeeding in reconciling buyers and sellers. Owners are agreeing to negotiate more easily : the market thus tends to be more reasonable, even if prices of properties still differ considerably depending on their location, and even more so if they offer a view of the sea."
You will also like