La Baule, a market in search of balance
A well-known seaside resort on the Côte d'Amour less than 80 km from Nantes, La Baule plays host to about 16,000 year-round residents. It continues to draw families and lots of retirees looking for both main and holiday homes.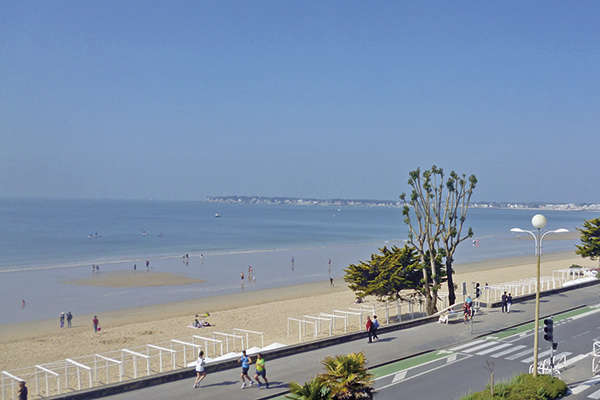 This 2-bedroomed apartment of 61 m2 on an upper floor benefits from a panoramic view from its terace, a cellar and parking place. 467.950 €. Juris Immo (02 53 84 80 85).
With its long beach at the end of the Bay of Le Pouliguen, its famous casino, pine forest, palatial hotels and enviable villas on the seafront, La Baule is synonymous with the art of living "by the seaside" where relaxation and water-sports are enjoyed to the full in fine weather. It is estimated that over 150,000 holiday-makers come to stay here in the summer season. The town's economy has, in fact, been based mainly on tourism since the 1960's. Another asset offered by La Baule is its immediate proximity to large towns such as Vannes, Nantes, Rennes and Angers, making it particularly appealing as a year-round home.
Independent estate-agent Michel Leroux, who has covered the area of La Baule and Pornichet for about 20 years, set up his own agency 18 months ago. This new status enables him to develop privileged relationships with each of his clients, both buyers and sellers. "It's important today for both sides to benefit from support and reassurance at all stages of their projects to sell or acquire a home, especially when it involves a property in which one wants to live all year round. I spend a great deal of time with each client to see that they discover the various neighbourhoods in La Baule if they are buyers, and to help them to make the most of their property if they are sellers." Michel Leroux's clientele includes many members of the upper socio-professional categories aged about 40, as well as young retirees or pre-retirees from Paris, Rennes or Angers, searching for what will soon become their main home. "Very active, these older clients are drawn by the life-style offered by La Baule, a blend of relaxation and sports activities : golf, tennis, sailing etc..." With generous budgets ranging on average from 600,000 to 750,000 €, they can set their sights on smart houses designed by architects, less than 10 years old, offering living space of 200 m2 with lofty volumes, pleasant gardens and quiet leafy settings a 15-minute walk from the beach. For the same kind of budget, residences of character built in the 1920's and 1930's in the town centre, benefiting from gardens, are also within their reach, though they are rare and very highly-prized. Buyers looking for small holiday homes in the guise of houses of under 100 m2 with 2 or 3 bedrooms and small gardens will find what they're looking for from 280,000 € in La Baule Mazy, Forêt, and the old Polyclinique neighbourhood.
GB Partners, an agency based in La Baule for the past two years, has seen demand for year-round homes continue to rise : they now account for a third of its sales. Here, the volume of transactions is holding steady as compared to 2013, though they tend to take longer to complete, especially as the ALUR Law requires a long list of additional documents to be provided. "Mainly comprised of baby-boomers, our clientele disposes of budgets ranging from 400,000 to 600,000 €," says agency manager Arnaud Brunel. "Buyers are looking for properties located between the railway line and the seafront : the Benoît, Casino and Marché neighbourhoods, as well as Avenue Louis Lajarrige, which is increasingly popular due to the quality and diversity of its shops." Many apartments are available here. In good condition, they fetch from 4,500 to 7,000 € per sq. metre, more if on the top floor, facing the sea. In new developments such as the "Elegia" residence, currently being marketed, prices can soar. For example, to treat oneself to a luxury apartment of 250 m2 on the top floor of this prestigious address facing the ocean, benefiting from 153 m2 of terraces and a 4-car garage, one would need to part with close on 4 million euros !
"Prices targetted by sellers do not equate with buyers' budgets," comments Emmanuel Piguet, manager of the Juris Immo agency on the Place du Marché. "Many owners find it hard to accept that the market is on a downward trend. The result is bargaining attaining 10 to 15% on average, and above all a sluggish market due to a general wait-and-see attitude." He mentions the example of a triplex on the Place du Marché which sold after a reduction of 100,000 € on the price initially fixed by the seller, who had rejected reasonable offers 20,0000 to 30,000 € below the price posted just a few months earlier. "Buyers are becoming more demanding, and if the property requires renovation work, they take that into account when making their offers, not hesitating to have several estim­ates drawn up before committing themselves."
You will also like