L'Aude, a multi-facetted "département"
Bordering on L'Hérault, Le Tarn, La Haute-Garonne, L'Ariège and Les Pyrénées-Orientales, this "département" in Le Languedoc-Roussillon faces the Mediterranean to the east and plays host to almost 354,000 residents. It owes its name to the coastal rivier which flows through its territory, and its renown to the medieval "cité" of Carcassonne and the Canal du Midi, both listed as part of UNESCO's World Heritage.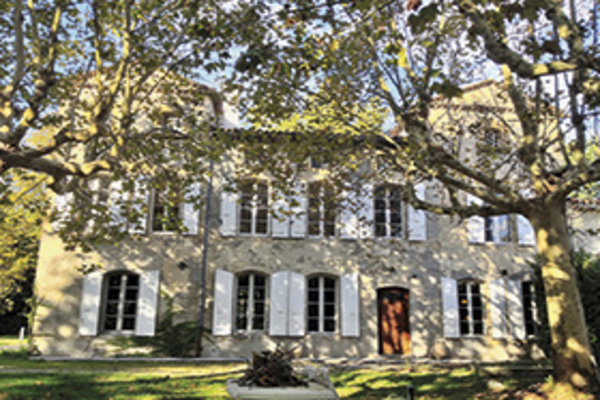 On the immediate outskirts of Castelnaudary, this fully renovated residence of character offers four bedrooms, three bathrooms, in a wooded park of approx. 2.5 acres. 508.000 €. Chayla Immobilier (04 68 71 57 27).
L'Aude covers an area of 6,343 sq. kilometres rising to a maximum altitude of 2,469 metres, reached by Le Pic de Madrès. Its mainly rural landscapes succeed one another from Le Lauragais to Le Narbonnais via La Montagne Noire, Le Carcassonnais, Le Pays de Sault, Le Minervois and Les Corbières. The eastern part of the region is covered by ponds and lagoons. Further inland, one comes across scrubland known as "la garrigue" and "le maquis". Fir-trees and beechwoods cover Le Pays de Sault. To the north and west lies La Montagne Noire. In Le Lauragais, the scenery makes way for "le bocage" (countryside with small fields) and the cultivation of cereals. Ashes, beech-trees, alders and poplars flourish in the upper valley of the Aude. Carcassonne and Narbonne, reached on the A61 motorway, or "Autoroute des Deux Mers", are home to one-third of the region's inhabitants. A stronghold of the Cathars in the 13th century, L'Aude turned agriculture and wine production into its main sources of income, two sectors of activity subjected to market fluctuations that are sometimes severe. Finally, Port-la-Nouvelle and Gruissan boast close on 130 fishing boats. A pioneer in the field, L'Aude can also lay claim to 113 wind turbines. Crossed by the Canal du Midi, it is a popular tourist destination. Visitors to the "Pays Cathare" accounted for income totalling 842 million euros in 2010, as well as 5,800 direct and 9,500 seasonal jobs.
Based in Carcassonne, Aube Roudières of Odéon Immobilier mentions strong demand on the part of retirees from all over France, drawn as much by the mild climate as by appealing prices. They pay from 170,000 € - bringing a small, single-storey house of 90-100 m2 with a garden of 400 m2 in hamlets on the outskirts of Carcassonne - to 250,000 € or more - for a 1930's or 1950's town house of 120-130 m2,or a recent detached home in the outlying area of the capital of the Aude. Local workers usually pay 100,000 to 200,000 € for houses of about 100 m2 in Pasteur, Saint-Michel, La Prade or Domairan. Apartments cost on average 1,000 to 1,300 € per sq. metre. Only fairly estimated examples find any takers. L'Aude does not, of course, post a perfectly homogeneous array of prices. Compared to Le Carcassonnais, Narbonne and its surrounding region are 30 % dearer, whereas Limoux, known for its high living standards, is apparently less expensive.
"In Carcassonne, most transactions do not exceed 200,000 € and mainly concern year-round homes," says Rodolphe Chayla of Chayla Immobilier. "While properties in the 200,000 to 450,000 € price bracket are having a tough time, those at the lower end of the scale find fans among first-time buyers and investors. Purchasers keep a close eye on fixed costs and energy performance. And the trend is clearly towards being close to urban centres." One then has to distinguish between inland and coastal areas, highly-prized for holiday homes and traditionally more expensive. Belgian and British clients - the latter currently rather hesitant - set their sights on Limoux for either occasional stays or with the idea of settling in permanently at a later date. Sunshine, authentic old villages, proximity to Spain and the Mediterranean are the most convincing arguments set forth by this undulating area. In Le Minervois, the analysis would be much the same. Le Lauragais, where one can still find farm buildings, draws the interest of town-dwellers in search of a new life-style while pursuing a "green tourism" activity. Very buoyant, the last quarter followed a wait-and-see period. Market activity does not follow a linear curve, though estate-agents are not unduly concerned. Buyers benefit from low interest rates and prices which have dropped in all price brackets, with a particular decline observed in the case of village houses with no outdoor areas. Sales go through as long as sellers are prepared to be realistic.
"Guest-houses and tourist accommodation seem to be fashionable again," note Laura and Jean-François Mondié of Must Propriétés, an agency specializing in properties of character suitable as private residences or for professional use in "départements" 11, 34 and 66. The tourist industry is doing well and Carcassonne's international airport brings in French and north European clients ready to invest from 500,000 to 1 million euros in the region. They are looking for a château, "mas", mansions or luxury villas. One Swiss client, for example, has just paid 550,000 € for a stone "mas" of 300 m2 in grounds of 8,000 m2 where he intends to spend his holidays on the banks of the Canal du Midi, in Le Minervois. French ex-pats paid 600,000 € for a villa of 250 m2 in grounds of 1,200 m2 in Peyriac-de-Mer, while a Parisian client looking forward to retirement acquired a 17th-C. château for 900,000 €, offering living space of 600 m2 in grounds of 8,000 m2, in Les Corbières. Finally, a Belgian couple parted with 750,000 € in exchange for a hotel-restaurant with 15 rooms, in good condition, in a village 10 minutes from Carcassonne, bringing annual turnover of 300,000 €. The estate-agent is thus not simply an intermediary between two parties. The notions of advice, service and assistance are inseparable from his role.
You will also like