Homes of character in Le Tarn
Inspired by the river of the same name, this "département" came into being after the French Revolution, formed on the basis of the dioceses of Albi, Castres and Lavaur. History fashioned the character of its men just as much as its buildings. Spotlight on the market for unusual old properties...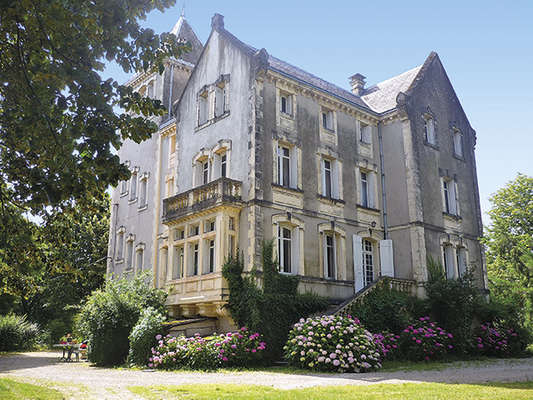 10 km from Castres, this manor house of approx. 400 m2 comes with guardians' accommodation in a fenced and wooded park of almost 5 acres with a pool, pool-house and garage. 636.000 €. L'Agence Castraise (05 63 59 03 41).
Le Tarn has a shared border with L'Aveyron, L'Aude, L'Hérault, La Haute-Garonne and Le Tarn-et-Garonne. The plain lies next to the undulating centre and the rocky massif of the Montagne Noire, lying to the south. The region proposes a wide diversity of homes, from "bastides" and vineyard estates in Gaillac to the treasures of L'Albigeois and Le Pays d'Autan. Le Pays de Cocagne recalls pastels and saffron, while the Lacaune mountains are wonderfully wild. The locals are Occitan in their souls, rebellious in spirit, a characteristic inherited from Catharism. Le Tarn celebrates gastronomy, wine and rugby. Its saga is closely linked to the leather, glass, steel, coal and textile industries. Its charming or prestigious architecture, a legacy from bygone eras, flaunts its colours.
"Properties of character can take the form of châteaux, farmhouses, master residences in the town or country, built from the 17th century to the early 20th," explains Nicolas Marcou of L'Agence Castraise. "These buildings are shared out equally all over the département." It is, in fact, their precise location which determines their prices. Among his most recent sales, our estate-agent mentions a fully renovated farmhouse in Lautrec, one of France's most beautiful villages between Castres and Lavaur - living space of 280 m2 in grounds of 6,000 m2 facing the plain and hills -, acquired by Canadians as a holiday home for 640,000 €. Local clients bought another farm of 700 m2, beautifully restored, with outbuildings, on about 56.8 acres of land over towards Puylaurens, for 1 million euros. Finally, a 19th-century town house of 240 m2 in Castres with a garden, pool and gar­age found a taker for 400,000 €. In the market segment bearing the "character" label, demand is steady. The clientele is serious and well-qualified. However, stocks which have been growing considerably involve more visits, systematic comparisons and tough bargaining. For buyers of this kind of residence, personal enjoyment is always an important factor.
Brigitte Barthe of Barthe Immobilier covers the large area around Gaillac. 26 km from Albi, 57 km from Toulouse - and a 20-minute drive from the motorway toll - on the route of the A68, this locality enjoys real popularity, es­pecially among couples working in both of the two communes. Town or village houses, renovated or not, have their fans, whether their character is expressed in their architecture, layout or building materials. In urban areas, they are often terrace houses or semi-detached, with small fenced gardens, terraces or courtyards. An intimate handling of the space in fact compensates for the reduced surface area. The market is currently centered around year-round homes and proximity to agglomerations, with buyers of holiday residences showing more hesitancy. This type of home, ready to move in, costs on average about 1,500 € per sq. metre. This price naturally depends on the property's loc­ation, orientation and condition, and whether or not it has a garage. Properties of charm are looked upon as sound values and are the subject of on-going searches. Buyers are fond of old farm buildings, restructured and decorated in contemporary style - ie. rather minimalist, with priority given to alum­inium, picture windows and light. In this category, demand outstrips supply. The latest transactions handled by the agency include a renovated farmhouse of 400 m2 on almost 5 acres of land with a pool, at 510,000 €, and a town house of 250 m2 in Gaillac with a garden of 1,000 m2 and a garage, at 430,000 €.
Renaud Martinet and David Navarette of Premium Immobilier manage four agencies in Albi, Graulhet, Rabastens and Lavaur, since April 1st, 2013. These specialists regret the poor quality of certain renovations, paying little attention to a property's original authenticity. Other so-called properties of character then appear in the files at high prices, certainly justified by their appointments and their much-appreciated closeness to the Albi-Toulouse motorway, but not necessarily affordable for the region's local residents. It should be pointed out that the majority of transactions are concluded under 200,000 €, with the prestige category starting at 400,000 €. 90 % of the agency's sales concern apartments inside the walls of Albi and 1960's or 1970's houses in Rabastens. To sum up, the so-called property of charm can be found in Le Tarn, as long as one can afford it. "Character" is a niche or, in fact, a micro market.
You will also like