Harbours on the Côte d'Azur, well-deserved success !
From Menton to Cannes via Beaulieu, Saint-Jean-Cap-Ferrat, Nice and Antibes, ports and harbours on the Côte d'Azur continue to attract both French and foreign buyers.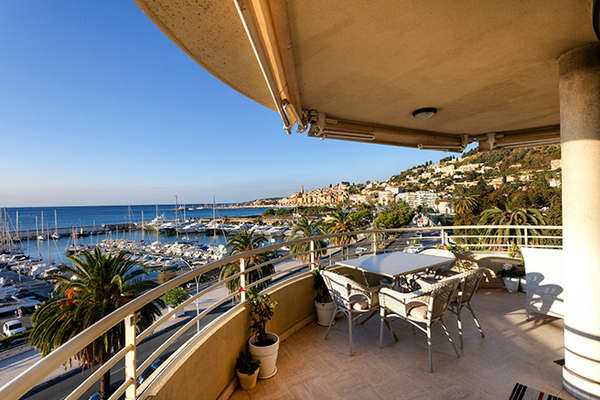 In the Garavan neighbourhood in Menton, this spacious 1-bedroom apartment with a terrace of 36 m2 and an adjoining studio offers a panoramic 180° view from the Old Town to the coast of Liguria. 855.000 €. Engel & Völkers Côte d'Azur (04 93 68 64 72).
The charm and prestige of the Riviera's harbours are as appealing as ever. Cosy apartments overlooking lively streets or charming early 20th-C. houses with views of colourful fishing boats and yachts do not stay for long on the market when their prices are right. And these prices sometimes soar to impressive heights for outstanding propertes offering luxurious appointments and unimpeded views of the sea. For Marie-Claire Sangouard of the Engel & Völkers agencies in Cannes and Saint-Jean-Cap-Ferrat, the market is currently very buoyant with the number of sales rising steadily over the past few months. "There are no longer any sales at astronomic prices, though if properties are priced correctly, they sell very quickly." Menton, Saint-Jean-Cap-Ferrat, Antibes, Nice, Cannes, Saint-Tropez are all prestigious holiday addresses of worldwide renown. Their natural beauty draws many clients and investors, making the Côte d'Azur a destination as highly-prized as ever, where prices per sq.metre can attain records. Marie-Claire Sangouard reports an average price of 14,300 € per sq.m for houses here, 10,130 € per sq.m for apartments. "Though they can, of course, rise substantially higher, as for a splendid Art Deco villa right at the water's edge on Cap d'Ail, on offer at 35 million euros." Marie-Claire Sangouard thinks it is essential to be honest with owners wanting to sell their properties. "Our job is not to flatter them but to offer the best possible advice ! You need to understand exactly what they want, and demonstrate your expertise and familiarity with the market. In the case of buyers, it is better to propose a property that everyone covets rather than one you can find just about everywhere. Which is why I recommend dealing with sole agents. It is a matter of trust and partnership, and is much more effective and reassuring for all concerned." Most of her clients are looking for holiday homes and are especially drawn by the charm and traditional features of old properties with colourful facades and pretty views of the Riviera's various harbours, though also the contemporary style offered by superb villas in La Californie in Cannes. Italians are fond of the coastline from Menton to Cap Ferrat ; the Old Town of Antibes is popular among English buyers ; Cannes is especally highly-prized by the Swiss, Scandinavians and Belgians, who often prefer the charm of Le Suquet or the quietness of La Californie to the famous Croisette. On the other hand, German clients tend to prefer the back-country. Americans are still present on the market, while Russians become buyers or sellers depending on political ups-and-downs back home.
Thierry Marot, who can lay claim to 30 years of experience on the Croisette in Cannes with his agency Résidence Croisette, believes that prices have stabilized. "It was pretty tough from 2012 to 2015, when we registered a decline of 10 to 15 %. Since 2016, the number of transactions has begun to rise." He notes however that, on a market much quieter since 2008, prices now reflect demand and a property's quality. Specializing in the most well-known neighbourhoods in Cannes such as the Croisette of course, but also Palm Beach, La Croix des Gardes and La Californie, he reports prices from 10,000 € per sq.m at the far end of the Croisette to 35,000 € per sq.m between Pont Alexandre III and the Palais des Festivals. "Even so, everything depends on the residence, the view, the floor... No two buildings are the same. In this neighbourhood, a penthouse can attain over 50,000 € per sq.m." Noting that foreign buyers have gradually been staging a comeback over the past few months (45 % of his clientele, versus 20-25 % during the crisis), he stresses that they are mostly from western Europe (the UK, Belgium), and that he has hardly seen any Russian or very wealthy buyers for the past three years. Demand mainly lies between 200,000 to 800,000 €, and mostly concerns holiday residences.
For over 20 years, the Agence Vizcaya has been selling properties between Nice and Saint-Jean-Cap-Ferrat (on Mont Boron, in Villefranche, Beaulieu and Eze). Its associate director Alexandre Lanfranco points out that the neighbourhood around the Port of Nice has changed a great deal over the past few years. Once a working-class area, it is now a trendy address, a real magnet among those looking for a pied-à-terre in Nice. Renovation has embellished the neighbourhood (Place Garibaldi, Rue Bonaparte), with development of the Promenade du Paillon connecting Place Masséna to the Port in a very attractive way, and the up-coming arrival of line 2 of Nice's tramway all pulling prices higher. This is especially true of the Bonaparte area between Place Garibaldi and the Place du Pin known as "Nice's little Marais", buildings lining the Port, Boulevard Franck Pilatte and Mont Boron. International clients (above all Scandinavian) are particularly fond of apartments around the Port, enjoying unimpeded views of boats and the sea, close to beaches, shops and restaurants. This neighbourhood is also sought-after by French buyers, especially Parisians in search of a holiday home beneath the sun. Locals continue to opt for the second part of Rue Bonaparte (towards Place Max Barrel), in the Barla neighbourhood and on Mont Boron, to benefit from spectacular views of the Med.
You will also like