Guingamp : an ideal location with attractive prices
Offering a great location between Morlaix, Saint-Brieuc and the Breton coast, the town of Guingamp is a kind of crossroads which also benefits from being on the RN 12 (express road from Paris to Brest). And its property prices are rather appealing...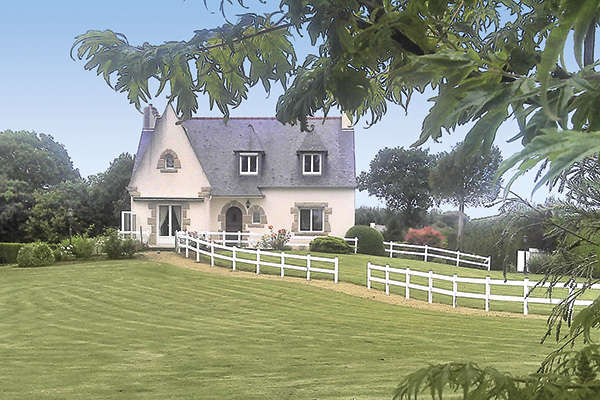 5 minutes from Guingamp, this house offers three bedrooms in over 6,100 m2 of grounds. 184.625 €. Henaff Immobilier (02 96 44 36 01).
A small town with about 7,500 inhab­itants, known for the surprising achievements of its football club (L'En Avant de Guingamp has played regularly in League 1 since 1995), Guingamp benefits from a central position ensuring fast access to the entire west side of Les Côtes-d'Armor, with Paris 3 hours 20 minutes away on the TGV. Other assets include a clinic, seven nursery and prim­ary schools, two intermediate schools, five secondary schools (three of which run professional courses), and the "Université Catholique de l'Ouest".
"Guingamp's convenient location means that you can live here while working in Saint-Brieuc, Paimpol, Lannion, or even Morlaix. As do many of our clients," says Jean-Luc Leon, manager of Laforêt Immobilier. Less than a year ago, with four partners, he acquired the agency in Guingamp for which he had been working for the past 10 years, together with four other agencies in Paimpol, Lannion, Penvénan and Pleubian. Covering a 15-km radius around Guingamp, he describes a market dominated by houses as opposed to apartments : "Intra-muros, a contemporary house all on one floor and in good condition costs from 150,000 to 200,000 €, while a "neo-Bretonne" built in the 1960's-1970's in the first ring around the town can be had for 100,000 to 170,000. If the property needs renovating, its price may well drop below 100,000 €". Stone "longère" farmhouses of about 150 m2 sell for 130,000 to 170,000 € with grounds of 3,000 to 4,000 m2. "You can also find small stone houses priced from 50,000 to 100,000 €." As for apartments, they range from 30,000 € for a studio of 25 m2 to 100,000-150,000 € for a quality duplex in the town centre. Finally, "building plots of 800 m2 cost 35,000 € on average. Though near the centre, they fetch from 40,000 to 50,000 €". 70 % of Jean-Luc Leon's clients are employees, buyers acquiring their second homes with higher budgets, rental investors and senior citizens looking forward to retirement.
"The area proposes very affordable prices. Guingamp is in fact one of the least expensive communes in the département, so there are some real opportunities to be snapped up," comments Benoit Henaff, manager of Henaff Immobilier, a 3 year-old agency covering the entire region around Guingamp (ie. a 20 to 25 km radius around the town, encompassing 65 communes). "You can in fact acquire a 3-bedroom house here in turnkey condition, with a garden of 200 to 300 m2, for only 100,000 €. Of course, there will often be some work to be done, but such appealing prices are really exceptional." For this estate-agent, most of the demand is for houses near shops "with a bedroom on the ground floor". Prices for apartments in 1970's residences range from 800 to 1,300 € per sq. metre, also allowing for some genuine bargains. Benoit Henaff has no particular client profile : "Our buyers may be young couples, retirees or investors. Though one trend has emerged over the past few years : first-time buyers are increasingly rare".
You will also like