Guérande, a market in search of equilibrium
A town of art and history set on a peninsula, Guérande forms part of historic Brittany in the region around Nantes. This commune home to about 16,000 people is known for its famous salt marshes, listed in UNESCO's World Heritage.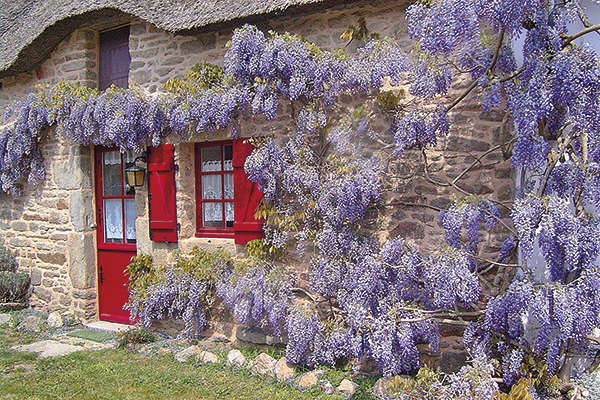 Near La Madeleine, this charming thatched cottage is comprised of a living-room with stone hearth, 2 upstairs bedrooms, and a garden of 380 m2 with an out-house. 180.000 €. Century 21 Bel Air (02 40 24 79 49).
Situated 19 km west of Saint-Nazaire, 70 km south-east of Vannes and 80 km west of Nantes, Guérande - founded in the 5th century A.D. - has preserved its superb medieval monuments. The ramparts, Porte Saint-Michel, Collégiale Saint-Aubin, Chapelle Notre-Dame-la-Blanche and Hôtel Dieu Saint-Jean all recall the flamboyant past of a town that then made its living from trading in salt and wine. About 3 hours from Paris on the TGV and 1 hour from the Nantes Atlantique airport, Guérande attracts many tourists each and every year. However, those looking to find a holiday home here are very thin on the ground. Mainly designed for year-round living, Guérande's property market mostly consists of houses. Here, many executives and self-employed prof­essionals working within the commune or in Saint-Nazaire, together with retirees often from the Paris region, hope to find pleasant homes in the town centre. They appreciate the charm offered by the commune, the shops and calendar of events that enliven all 12 months of the year, and prices which are cheaper here than in La Baule. "Over the past few years, buyers' budgets have followed a downward trend," says Catherine Vermote, manageress of the JCB Immobilier agency opened in Guérande in 2002. "The market in Guérande is affected by those from which buyers arrive. If they have sold a home for 400,000 € in the region around Paris, they dispose of that sum of money and are not prepared to invest any more. Sellers have to adapt to the fact. We are currently faced by a significant gap between the prices required by sellers and real market prices. A situation that also applies to properties in the countryside." By way of example, our estate-agent cites a charming stone farmhouse on offer at 230,000 €, which would easily have sold for 280,000 € prior to 2010. "Properties of charm are also feeling the effect of price adjustments, and clients are more demanding with regard to a property's condition and energy performance."
Buyers' budgets are therefore clearly on the downside here in Guérande. "Most of our clients are looking for houses with 3 or 4 bedrooms near the centre. And most of them have budgets ranging from 200,000 to 300,000 €," explains Patrick Delprat, director of the family-run agency Century 21 Bel Air , opened in Guérande 51 years ago. "Only properties that we have up for sale in that price bracket sell relatively quickly," he adds, giving his most recent transaction as an example : a pleasant house in the town centre. Offering 3 bedrooms, a study, a fitted and equipped open-plan kitchen, a garage and garden of 720 m2, it sold without any bargaining for 260,000 €. "The price posted corresponded to the property's market value, so it was relatively straightforward. On the other hand, numerous properties over and above 300,000 € are not finding any takers. Which results in a slowdown in our activity ; even though mortgage rates are low, borrowing conditions imposed by banks are increasingly drastic."
This observation is shared by Thomas Conquantif, manager of the Patrimoine Modernisation agencies, who deeply regrets that some estate-agents agree to handle transactions at prices which are much too high. "It creates confusion not only among buyers, but also sellers. We are confronted by a declining market, which needs a clean-out. For sure, some owners who bought their properties before 2010 sell at a loss, but they also buy new homes at lower prices... So by explaining and accepting current market conditions, it should resume a satisfactory pace, especially as Guérande is still in steady demand," says this professional, who advises sellers to consult their notaries if they feel lost when confronted by a merry-go-round of contradictory estimates.
You will also like