Fayence and Flayosc, at the heart of the Upper Var
Charming addresses characterized by rural scenery and hill-top villages, Fayence, Flayosc and their surrounding areas offer peaceful living conditions and an ideal geographic position between sea and mountains, near main roads and an international airport...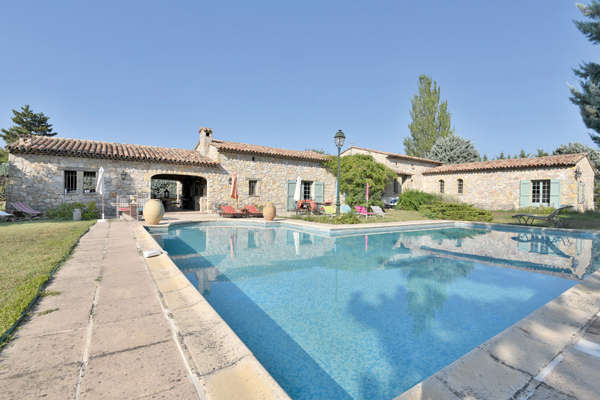 Near amenities in Fayence, this stone house of approx. 270 m2 offers 4 bedrooms and a swimming pool in 4,109 m2 of grounds. 880.000 €. Immoweb. (04 94 39 20 20)
Perched on hills covered by pines and olive-trees in the foothills of the Alps, the eight villages in Le Pays de Fayence overlook the Bay of Saint-Raphaël. This authentic countrified area holds no secrets for Eric Vella, manager of the Immoweb agency specializing in sales of middle- and high-end properties all over the canton of Fayence. "The sales we handle involve villas and properties in Provençal and neo-Provençal style, ideal as year-round or holiday homes and appealing to a mixed clientele of French retirees and foreign buyers. They are all won over by the climate, the villages' well-preserved authenticity, careful urban planning, and a location easily reached from Nice's international airport and main roads". Furthermore, after a downward adjustment over the past three years, the property market now offers a good array of quality homes at prices well under those posted down on the coast. "Villas under 500,000 € are in the highest demand, though the 500,000-700,000 € bracket is still buoyant, and a few sales at prices ranging from 700,000 to 1 million euros are concluded on a regular basis." Among his sales that are good reflections of today's market, Eric Vella mentions a 3-bedroomed villa of 120 m2 within walking distance of the centre of the village of Fayence. Foreign retirees just paid 420,000 € to acquire this property offering a lovely clear view of the valley.
Listed as one of the loveliest hill-top villages in the Dracénie region, Flayosc is perched on a rocky spur 7 km from Draguignan and Lorgues. Home to almost 4,500 residents, this medieval village is surrounded by lavender fields and renowned vineyards. "Our clientele is split evenly between French and north European buyers," says Bruno Sabatier, manager of the SOGIP agency. "They appreciate the pleasant life-style that reigns here, and the location between sea and mountains enabling them to reach both the seafront and the Verdon Gorges very quickly. Since 2015, the market has been more evenly balanced, and sellers accept our estimates more readily." Buyers benefit from a good choice of homes. Ranging from Provençal villas with swimming pool from 300,000 € to properties of character, such as a tastefully renovated oil-mill of 300 m2 priced at almost 1 million euros, offerings are diverse and of good quality.
You will also like