Exceptional luxury addresses in Biarritz
The most renowned seaside resort on the Atlantic coast can lay claim to many different assets. At the heart of the Bay of Biscay, the "queen of beaches and beach of kings" attracts clients with high demands in terms of location and stylishness. An overview of top-quality offerings...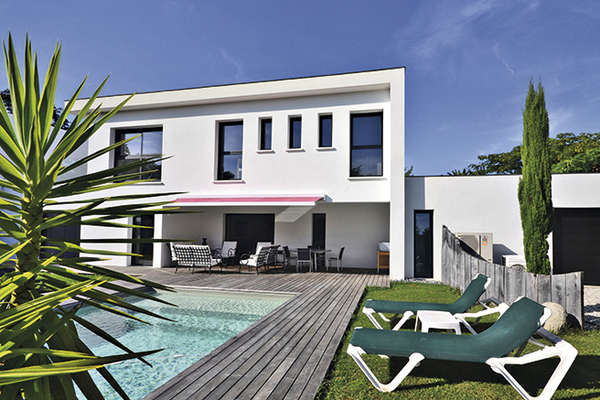 Currently under offer, this contemporary villa of 210 m2 offers clean architecture, a high level of comfort and spacious interiors opening out to a leafy garden with a pool. 1.330.000 €. Sotheby's international realty (05 59 22 04 22)
Based in Biarritz for the past 26 years, Sotheby's International Realty offers prestigious, high-end properties in Biarritz, Anglet, Chiberta, Saint-Jean-de-Luz, Bidart, Guéthary, Arcangues and Arbonne. "In Biarritz, demand certainly outstrips supply. Which does not mean to say that everything sells. Buyers follow evolutions in the market very closely, and insist on buying at the going market price," says Patricia Biondi, whose clients are from Paris, Bordeaux, Toulouse, with a few foreigners, notably from Luxembourg, not forgetting French ex-pats, often with substantial means enabling them to aim for properties priced well over 1 million euros. Among her recent sales, Patricia Biondi mentions several houses ranging from 1.3 to 2.7 million euros. "Location always tops the list of criteria. Buyers are prepared to undertake extensive renovation work, and even demolish a property if its location meets their requirements." Seafront apartments are also still highly-prized, especially when prolonged by a terrace - a rare commodity, widely sought-after in Biarritz. Here again, buyers have to be very patient due to very scarce offerings : and when a property of quality does come onto the market, especially if it is on an upper floor, its price may well be close on 20,000 € per sq. metre ! "Biarritz is still extremely popular. Buyers appreciate its unique life-style and the sense of security that reigns here year-round." The most highly sought-after neighbourhoods ? "The area around the Palais, the Quartier Impérial near the beaches and town centre. Younger clients seem to be increasingly drawn towards the centre, especially the streets around Les Halles where you find restaurants, lots of shops and trendy bars."
Inaugurated in Biarritz in December 2015, the Espaces Atypiques agency offers unusual or contemporary properties, and those with lots of character (lofts, split-level apartments, villas designed by architects, top-quality renovations, empty floors awaiting development, premises transformed from their original purpose...), all over the Basque and Landes coasts. "Due to rising demand from our clients, we are are extending our activities in départements 64 and 40," says manageress Emmanuelle Zerr. "In Biarritz, we are seeing high demand for unusual apartments and contemporary villas. The areas most sought-after by our clientele are concentrated around La Milady, the Quartier d'Espagne, and the area around Saint-Charles. In fact, our buyers are looking for something other than the Impérial neighbourhood of Biarritz or mainstream neighbourhoods : they take a different point of view." Fans of architecture and design, this agency's clients are open-minded esthetes, sensitive to beautiful places, their past and their souls. They place the home at the very heart of their philosophy of life. "Currently, the market is very buoyant, and our clients – mostly from outside the region – are intensifying their searches. They are keeping an eye on the presidential election and any rise in interest rates. As a result, sales are going through very quickly, so that they can benefit from the summer season," explains our expert. As examples of recent sales orchestrated by the agency, she mentions a charming split-level apartment of 40 m2 in the "Bibi" neighbourhood in Biarritz, which sold for 265,000 €, and a penthouse of 110 m2 with a roof- terrace facing due south, in Anglet, which found a taker at 575,000 €.
You will also like