Dax, a market under-pinned by the middle class
Built on the banks of the River Adour, 30 minutes from the ocean and the beaches, this attractive town in Les Landes - birthplace of mathematician, physicist, political scientist and sailor Jean-Charles Chevalier de Borda, one of the 72 learned men whose names are inscribed on the Eiffel Tower -, has many strings to its arc.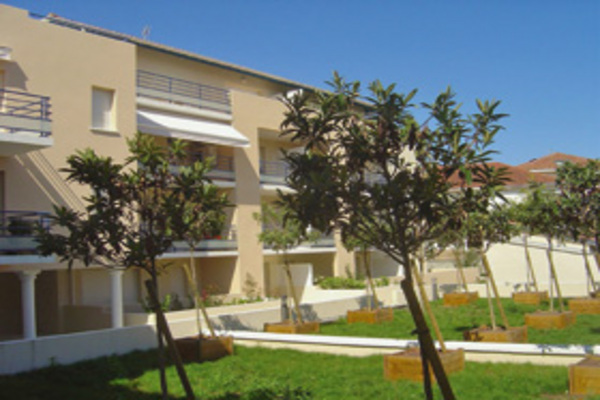 In the centre of Dax, this 1-bedroom apartment of 47 m2 in the "Terrasses d'Augusta" opens out to a covered terrace of 9.5 m2. 143.000 €. Robert Alday (05 58 56 90 43).
In the land of Gascony, equidistant from Mont-de-Marsan and Bayonne, the sub-prefecture of Les Landes, whose beneficial warm spring water has been acclaimed since the Age of Antiquity, is home to some 20,900 people. Fans of Art Deco fall for the charm of Le Splendid and L'Atrium. Close to the river, make way for the "barthes", or marshy meadows. The hills take over to the south, while pine-trees flourish to the west, the forest to the north. Thermalism, bull fighting and rugby, superbly represented by Pierre Albaladejo, the unforgettable "Monsieur Drop", are the best-known features of this town which also revolves around its administrative services : courts, police station, tax office, customs office, gendarmerie, social security, ANPE, army base, DDE, Chamber of Commerce and Industry, not forgetting schools up to secondary level. The importance of the service sector does not detract from the industrial sector, making its contribution thanks to the production of thermal mud, salt, mineral water and paper. Every year, on August 15th, nearly 800,000 people come to Dax for its famous fiestas.
"While visits are picking up at a satisfactory rate and we seem to moving away from the zone of turbulence, the effects of the crisis are still in the background," agree Audrey Depirou and Julien Blanc of ALIS (Atlantique Loisir Immobilier Services). "Not content with the adjustment in prices observed in Les Landes, highly demanding purchasers continue to make cheeky offers. The market is competitive and estate-agents find their salvation in inter-agency collaboration. At the lowest point, the volume of business plunged by 30 %." A loss from which they are gradually recovering thanks to modest transactions, the most widely represent-ed bracket, which they are thus obliged to handle in considerable numbers. Relatively long, the time it takes to complete a sale is from six to nine months. The average budget ranges from 150,000 to 170,000 € for a 2-bedroom apartment, a commodity that attains 190,000-200,000 € if it includes impeccable appointments. This price range is of interest to young couples with a child and seniors wanting to move closer to the town centre after selling their houses. Fans of in-dependance aged from 35 to 50 usually pay 200,000 € for a home of 100 m2 (two or three bedrooms) with a garden of approx. 500 m2. Apartments cost about 2,000 €/m2, whereas individual houses change hands at 1,800 €/m2. A desirable residence with four main rooms can fetch close on 400,000 €, though this segment of the market is still slow to rally. 70 % of transactions concern main homes, 30 % investments. Some investors target commercial opportunities related to thermal cures, ready to spend 50,000 to 60,000 € on a studio of 25-30 m2 in old buildings, before pocketing 500 € for three weeks of occupancy. Others pay under 90,000 € for 1-bedroom apartments of 35-40 m2, likely to bring in 400 € per month.
Viet Tran of the Robert Alday promoters' group cites "Valbrun", 51 apartments sold in 2007, and "Les Terrasses d'Augusta", 61 apartments completed in 2010 on Cours Gallieni, four of which are still on offer : a one-bedroom apartment and three with large surface areas. "Le Domaine des Baignots", 62 apartments already completed, 18 under construction, in a lovely park on Boulevard Carnot, is currently on the market. Studios start at 81,000 €, while the top floor offering living space of 102 m2 (four main rooms perfectly appointed and prolonged by a generous terrace) is close on 298,000 €. Generally speaking, new apartments, benefitting from reduced notary's fees, range from 2,600 to 2,800 €/m2. Good quality developments attract a wide clientele of retirees, hardly affected at all by the crisis, and 30 % of investors, despite the fact that Scellier scheme advantages are not applicable here. In zone C, Dax benefits at most from the "Prêt Locatif Social" (PLS), a mortgage for modest properties intended for rental, authorizing acquisitions with VAT at 5.5 % and exoneration from property tax as long as the acquisition is rented out for 15 years in compliance with ceilings currently in force. On the other hand, the investment is sound and the rental market holds out considerable promise.
You will also like