Bordeaux-Caudéran, a very diverse market
At the heart of Bordeaux's greater urban area, Caudéran is the largest and most densely populated neighbourhood in this city known as "la belle girondine". Benefiting from a quiet environment and numerous green areas including the Parc Bordelais, the largest in the town, it has a residential atmosphere very popular among families.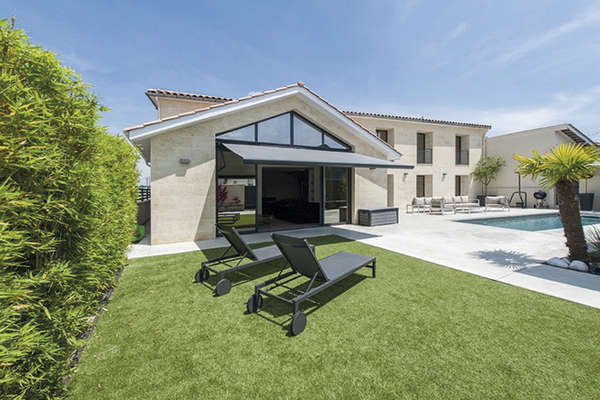 Offering rare charm, this property of 256 m2 in Pessac was once a workshop that has been entirely rehabilitated. 1.050.000 €. HA immobiliers (06 74 15 10 76).
Emilie Favier of Coulomb de Pierra Immobilier describes the area's wide diversity : "Here you will find stone "échoppes" typical of Bordeaux and in high demand, traditional houses built in the 70's and 80's, substantial bourgeois homes, even occasionally "chartreuses", and now contemporary and recent houses designed by architects". Mostly from Bordeaux or Paris, clients targeting Caudéran are looking for spaciousness or, more precisely, a house with a garden. Near the Parc Bordelais and reputable schools, this type of property is becoming increasingly appealing, and inevitably more expensive. To acquire a property under 500,000 €, buyers therefore have to make concessions. The Pierra Immobilier agency is proposing a large, detached family house of 160 m2, built in 1980 on a busy road, with a garden of 400 m2, at 455,000 €. "With budgets under 350,000 €, future home-owners have to be prepared to look beyond the railway line and take on renovation work. Such is the case for a 1950's house of just over 100 m2 with a garden of almost 200 m2, currently on offer at 286,000 €," adds Emilie Favier, well-placed to observe that there is growing demand for Caudéran. The choice of available properties is thus shrinking, leading to higher prices and faster decisions on the part of buyers. By way of example, Pierra Immobilier recently sold a 4 bedroomed house in perfect condition, near the centre of Caudéran, priced at 630,000 €, in just two weeks, with hardly any bargaining. In a market evolving so rapidly, the agency has realised that proximity makes all the difference, for both buyers and sellers. Proximity it intends to maintain by steadfastly remaining a neighbourhood agency.
Facing the Grand Lebrun school, Hamid Abkar's agency, HA Immobiliers, also places its bets on proximity. Assisted by his son, Enzo, this estate agent who knows the area particularly well strives to satisfy a growing clientele. He admits that it is far from easy : "Demand is strong and we are beginning to run out of available properties. The up-coming arrival of the LGV is making Bordeaux more popular, and it is becoming even harder to meet everyone's requirements". In the case of apartments, prices are holding steady. Mostly to be found in 1970's-1980's residences, they fetch from 2,000 to 4,500 € per sq. metre depending on their location and amenities (lifts, parking facilities, sunny exposure...). Houses comprise the lion's share of the market. "The most sought-after are those near the Parc Bordelais and Grand Lebrun. Houses on Avenue Carnot are the most highly-prized, while Primerose with its very lovely stone buildings meets a more specific kind of demand," explains Hamid Abkar. Recently, in Caudéran-Grand Lebrun, his agency sold a stone "échoppe" of 140 m2 on two floors, freshly renovated, offering 4 bedrooms, a garden and garage, for 550,000 €. Naturally, as soon as one ventures further from the nerve-centre comprised by the Parc Bordelais, prices are lower. A house of 130 m2 in the same style as this last one, with a larger garden, but in Les Pins Francs, thus sold for 450,000 €. "Similarly, Le Bouscat and Mérignac, on the outskirts of Caudéran, offer more opportunities for those willing to move further out."
Arnaud Droulers has been running his own agency for the past eight years. The perfect example of a neighbourhood agency, Arnaud Droulers Immobilier covers all of Cau­déran with a wide array of properties in its portfolio, from classic apartments to houses built of stone, contemporary or designed by architects. He agrees with his fellow estate-agents that while demand is strong, supply is beginning to lag behind. "The price per sq. metre has to be seen as very relative, especially as Caudéran is an extremely diverse area in terms of housing. Near the Parc Bordelais, family residences with 3 or 4 bedrooms cost around 600,000 €, though the price bracket can extend to 500,000-800,000 € depending on each specific property." Recently, Arnaud Droulers orchestrated the sale of a house of 150 m2 with a small annex, just behind Grand Lebrun. In good condition, requiring just a little freshening up, it caught the eye of a couple with children, who bought it for 630,000 €. In the same neighbourhood, he sold a house of 100 m2 in need of total renovation for under 400,000 €, a rare property on today's market. Fin­ally, on the edge of the centre of Caudéran, he enabled clients to acquire a standard apartment of 135 m2 in a 1970's residence for 350,000 €. "At the upper end of the market, a renovated bourgeois house of 200 m2, built of stone, is worth about 900,000 €," says Arnaud Droulers. "It corresponds to the type of property we can currently present between the Parc Bordelais and Grand Lebrun."
You will also like