Apartments of genuine charm in the hyper-centre of Toulouse
Travelling through time and different architectural styles with remarkable elegance, the historic centre of Toulouse plays host to apartments of very persuasive charm ! Some real gems to investigate, even if their prices are relatively high.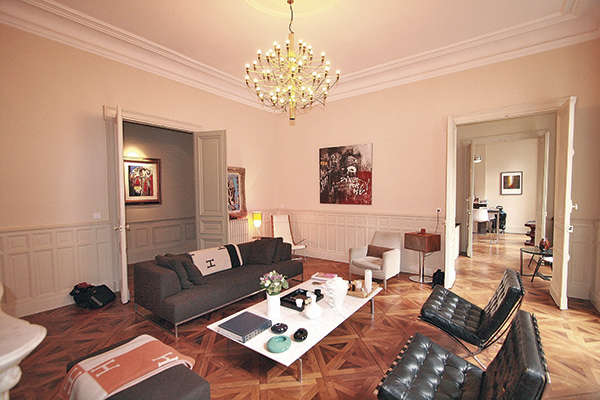 Close to Victor Hugo, this Haussmann apartment of 210 m2 has been renovated throughout. 1.050.000 €. Mercure Toulouse-Midi-Pyrénées(05 34 417 427).
High ceilings, Versailles parquet floors, exposed brick and authentic old fireplaces... All proposed in the portfolio of Jean-Romain Riveyran, manager of Habitat Communication based in the hyper-centre of Toulouse. Specializing for the past 25 years in old homes of character (mansions, apartments in Napoleon III style, and from the 17th and 18th centuries) in Toulouse and the surrounding area, he explains that "Selling old properties means selling emotion". Which comes at a price : "While prices here are close on 3,500 € per sq. metre, our properties range from 4,000 to 5,000 €, or even more depending on their stylish­ness and rarity". By way of example, a "chartreuse" of 170 m2 in a prestigious private mansion in the Saint-Etienne neighbourhood, renovated with care to reflect the building's historic cachet, which sold for 1 million euros. Or an apartment of close on 200 m2 in another town mansion in Saint-Etienne, with wood panelling, old parquet floors and marble fireplaces, which changed hands at 735,000 €. "We are also on the point of selling a rare and unusual property : a ground-floor apartment of 85 m2 proposing moulded ceilings, Provençal floor tiles and a private courtyard of 70 m2, priced at 330,000 €." Under these cond­itions, first-time buyers only account for about 15 % of Habitat Communication's clientele. "Though our buyers do not have any specific profile. Their only point in common : it has to be love at first sight !"
Manager of RBI/Immozen since 2001, Marc Cellura also specializes in fine properties (old apartments, town and village houses, estates, master residences, private mansions, manors) in Toulouse and the nearby areas : "For charming apartments in the town centre, which we often sell under a blanket of secrecy, the prices posted range from 4,500 to 5,500 € per sqm. We just handled the sale of a 2-bedroom apartment of 102 m2 in a town mansion, with a garage, pegged at 4,460 € per sqm. As for the size of the properties we usually present, they range from 100 to over 500 m2". In the case of very lofty volumes, prices sometimes prove to be very different, occasionally offering some real opportunities : "We currently have two very beautiful apartments for sale, an elegant example of Haussmann architecture of 210 m2, and a very refined apartment of 350 m2, both priced at about 5,000 € per sqm, plus a vast, unusual apartment of 520 m2, exclusively presented at 980,000 €, ie. 1,880 € per sqm.". The agency's contact files contain company directors and self-employed professionals such as doctors and dentists, most already installed, but also recently transferred to the city, as well as people approaching retirement, for example, with high purchasing power and keen to treat themselves. "These last clients have often parted with a house in the country in order to re-invest in Toulouse's magnificent old stone."
Anne de la Sauzay is managing director of the Mercure Toulouse-Midi-Pyrénées agencies. Two agencies with different but complementary approaches : the first, the oldest in Toulouse (founded in 1936), focuses on rural properties (lovely large residences, châteaux, houses of character...) in the Midi-Pyrénées, Languedoc-Roussillon and Périgord, while the second concentrates on urban homes (prestige apartments, town houses and properties) in Toulouse itself and within a 25-km radius. "In the historic centre (Saint-Etienne, Les Carmes and La Dalbade), our clients are looking for large surface areas (from 100 to 300 m2), character or tasteful renovation, light, quietness, a terrace, lift, parking facilities and proximity to amenities. Properties which are now becoming rare in highly-prized neighbourhoods, especially at the top end of the range. Many buyers dream of an apartment in Saint-Etienne with a terrace and garage : but that is an exceptional property which is immediately snapped up, like one split-level apartment of 155 m2 with six main rooms and a terrace of 15 m2 on Place Sainte-Scarbes, which sold within a week for 790,000 €." Anne de la Sauzay also points out that, in the first quarter of 2014, the average price of apartments handled by Mercure rose to 816,000 € versus 790,000 € in 2013, with an average price per sqm. currently attaining 4,672 € (versus 3,900 €). Among her latest transactions, she mentions a beautiful apartment of almost 200 m2 on François-Verdier, combining features of charm and character with the comfort of high-end renovation, priced at 1,092,000 €, and a property in Saint-Etienne comprised of a main apartment of 170 m2 and two small apartments in need of renovation, which found a taker at 773,000 €. "We are contacted by a number of Toulousains, though our clientele mainly cons­ists of new arrivals transferred to the city : from Paris, of course, but also from all over France, together with a few Europeans. They are senior executives, company directors, self-employed professionals and retirees, aged from 40 to 65."
You will also like