Annemasse, a very buoyant market
An average-sized town with 32,000 residents, Annemasse offers the advantage of a convenient location on the Franco-Swiss border, 2 km from the canton of Geneva. Its very lively property market mainly revolves around acquisitions of year-round homes by the famous "frontaliers"...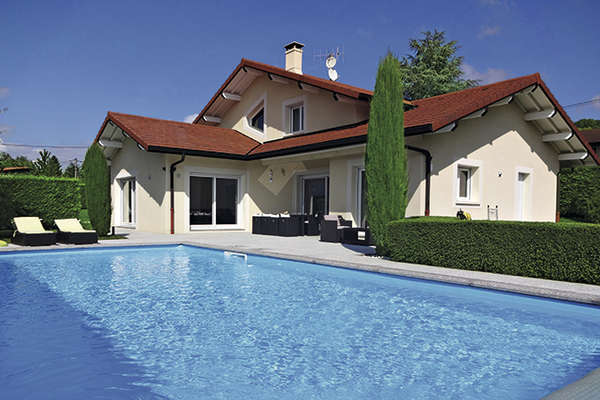 Built in 2007, this house of 200 m2 stands in enclosed grounds of 1,200 m2 in Cranves-Sales. It offers high-quality appointments and a double garage. 1.040.000 €. AT-Immobilier (09 83 79 63 79).
Far from resting on the laurels of its geographic assets, Annemasse is re-energizing its urban area. Many new residences have replaced obsolete houses, the new Camille Claudel school group with 17 classes and a county-level gymnasium opened in September, and intra-urban commercial development is improving the quality of life for residents. The municipality of Anne­masse is also pursuing its policy for urban rehabilitation
"The momentum is really tangible," says Angélique Tricaud, manageress of AT immobilier that she founded in September, 2015. "Buyers are motivated by record low interest rates, appealing market prices, and exchange rates that are advantageous for those borrowing in a foreign currency. Many of them are deciding to become home-owners in Annemasse, whether to acquire their main home or to invest, given the satisfactory level of rental returns." Apartments with 1 or 2 main rooms priced under 140,000 € are pounced upon by these investors. As for working singles and couples, often "frontaliers" (working across the border), and first-time buyers or otherwise, they focus their searches on 1- and 2-bedroomed apartments in the centre. Depending on their condition and address, old apartments fetch from 3,000 to 4,000 € per sq.metre. By way of example, Angélique Tricaud mentions the recent sale of a 1-bedroomed apartment in need of a revamp, priced at 139,000 €, in a 1980's residence on Rue du Brouaz. "This kind of property now finds a taker very quickly." Families looking for houses at around 450,000 € set their sights on Ville-la-Grand and Cranves-Sales, though they are confronted by scarce supply : more substantial houses in Juvigny require higher budgets.
"Since the beginning of this year, we have in fact seen a rising number of transactions as compared with last year," says Sylvie Léger of the Citya agency, based in Annemasse since 1991. "After a slight decline, prices are again relatively stable. Our clients most frequently have budgets between 190,000 and 210,000 €. We can find reasonable surface areas for them in the most highly-prized areas, that's to say Gaillard, because it's close to the customs, Le Chablais Parc, close to public transport and the station, as well as the hyper-centre." Sylvie Léger also proposes new properties, inevitably more expensive, such as a garden-level apartment of 39 m2 with 1 main room in the Saint-François de Sale residence in Cranves-Sales, priced at 155,000 €.
You will also like