Angers, steering a course towards stability !
With biking paths, tramways and the banks of the Maine soon to be developed, the capital of Maine-et-Loire is still pursuing its rehabilitation, embellishment and modern improvements. The 33 communes in the "Angers Loire Métropole" agglomeration will certainly benefit from this fresh impetus which began 10 years ago.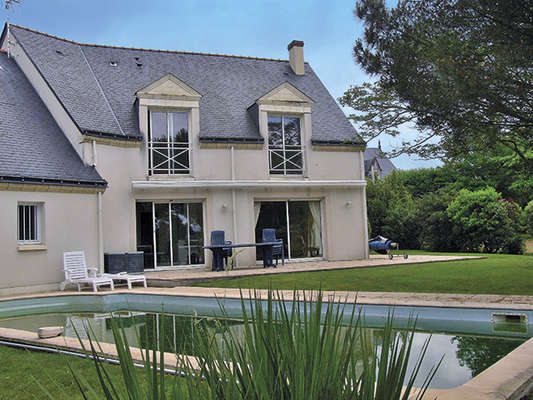 This lovely villa with 7 main rooms is on the commune of Avrillé, 5 km from Angers. 570.000 €. AB Immo (02 41 48 50 20).
In 2004, an urban renovation programme was launched in Angers. Encompassing the neighbourhoods of Belle-Beille, Grand-Pigeon, Monplaisir, La Roseraie and Verneau, its purpose was to provide a boost for the entire commune. Easier access to public transport and enhancement of both built-up and landscaped areas have borne fruit : Angers is now a more attractive town. Even the surrounding villages are benefiting from this new impetus, especially as the next tramline should simplify traffic problems. An array of assets which are positive for all sectors of the property market in the main town of the département of Maine-et-Loire.
"2013 was a better year than 2012," says Jean-Michel Dereeper, manager of the AB Immo agency founded in Angers in 2004. "Though we have noticed that transactions take longer to complete. Neither buyers nor sellers are in any hurry !" And why is this ? "As everywhere else, people are wondering about how the market is going to develop over the coming months. Even so, prices are holding steady overall." This stability mainly applies to the two extremities of the market. AB Immo mostly proposes houses, often situated on communes just outside Angers. "Homes at the lower end of the market, starting at 200,000 €, and the top end, at around 400,000 €, are the most sought-after. Thos in between are having a hard time : neither old enough to charm a clientele in search of authenticity, nor modern enough to be described as contemporary." Demand for the agglomeration of Angers seems to be growing. "Our clients are looking for houses in the centre of villages close to Angers, especially as the next tramline should link up several communes from east to west." Just a few kilometres from the town centre, one can find pretty villas built less than 20 years ago, mostly offering a garden : one example is a house of 215 m2 in Avrillé, 5 km north-west of Angers. Nestling in the midst of a wooded area, it proposes modern appointments and a garden of 1,600 m2. Offered for sale by AB Immo at around 490,000 €, it is representative of the market.
As for the town centre, a really safe bet is the the typical Angevine house, conveniently located at the heart of the "golden triangle". According to Thomas Monin, manager of the Mandat & Moi agency : "Here in Angers, there is rarely much bargaining for a property in a good location". Among his latest sales, he mentions an Angevine house of over 200 m2 with a garden, renovated throughout to offer contemporary appointments ("designer" kitchen, double garage...). On the Place du Lycée, it sold for 570,000 €. Another typical example : a split-level apartment of 116 m2 near Place Ney, snapped up for 245,000 €. "On average, an apartment in the town centre ranges from 1,900 to 2,400 € per sq. metre, depending on its individual features. As for old properties of character, they can cost up to 2,900 € per sq. metre," explains Thomas Monin. A few new developments are also being marketed at the moment, including a new residence signed Bouygues on the Rue du Maine. These apartments sell quickly, at prices above 3,500 € per sq. metre (from 165,000 € for 1-bedroomed apartments), as they are ultra-modern and meet all the energy standards currently in force. Diversified and uncongested, the property market in the agglomeration of Angers proposes a varied array of housing at fair prices. Enough to satisfy the requirements of young couples looking to buy their first homes, growing families, executives transferred to the region, and retirees in search of accommod­ation to suit their new lifestyle.
You will also like