An attractive periphery south of Lyon
Between urban areas and rural villages, the communes just south of Lyon offer a choice of high-quality properties, especially to families in the city who, after selling their apartments, look here for ideal family homes... at appealing prices !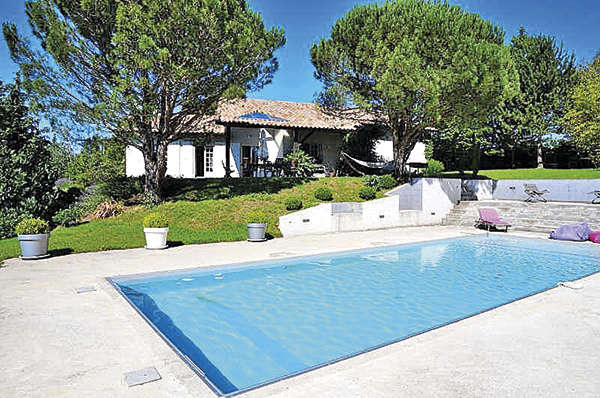 In a residential neighbourhood in Vienne, this 3-bedroomed villa in 2,300 m2 of grounds benefits from a warm living-room with exposed rafters and a stone hearth. 450.000 €. L'Immobilier d'Antoine (04 74 87 60 30).
Based since January in Brignais, a charming commune with 12,000 residents 15 km south-west of Lyon, the ERA Immobilier agency managed by Yannick Pochet specializes in transactions in the various areas south of Lyon : Vernaison, Irigny, Saint-Genis-Laval, Millery, Vourles, Charly... Ideal addresses according to the many families looking here for homes of about 100 m2 with gardens of 500 m2. "We are cur­rently seeing a lack of balance as most buyers have budgets ranging from 220,000 to 240,000 € while proper­ties matching their requirements are usually priced around 300,000 € in Brignais, and even 25 to 30 % more on highly-prized residential communes such as Vourles or Chaponost. Prices are, however, continuing to fall. Since January, we have seen a decline of 7-8 %." The market for new properties, very active in this sector, also proposes many homes of quality, as exemplified by a 3-bedroomed apartment of 70 m2 in the centre of Vourles. With the low-energy BBC label and trendy appointments, it has nevertheless been up for sale for an entire year. The reason, of course, is its price : 300,000 €. On this market searching for stability, properties requiring renovation are particularly appealing : one example is a bare floor of 130 m2 conv­eniently located in the very centre of Brignais, near schools, shops and the train station taking passengers to the heart of Lyon in less than 20 minutes. Benefitting from an outdoor area of 200 m2, it is on offer at 189,000 €. "Even if everything is waiting to be done within these 4 walls and a roof, I think it will sell within a few weeks, as it corresponds to real demand," says Yannick Pochet.
It was in the far north of Vienne, in L'Isère, that Antoine Bonardot opened his agency L'Immobilier d'Antoine in 2008. "People working in Lyon now account for 40 % of our clientele alongside others from Vienne and a few new arrivals, often transferred to the region. They are looking for properties ideally located in the Bon Accueil neighbour­hood, offering the advantage of the Estressin train station, or in Seyssuel, a charming quiet and residential commune with easy access to the slip road to the motorway taking them quickly to Lyon." Prices of 2-bedroomed apartments range from 120,000 to 140,000 €. Family homes with several bedrooms and a garden are pegged from 220,000 to 250,000 €. What about new developments ? The few residences currently under construction - especially in Sainte-Colombe - are marketed depending on their appointments from 2,600 to 3,300 € per sq. metre. "Our market has become more evenly balanced. Sellers have accepted the drop in prices and are more willing to trust our estimates," explains Antoine Bonardot, for whom the year 2014 holds out more promise than 2013.
You will also like