Albi and Gaillac : towns of character
An important tourist destination marked by the Cathar tragedy, Albi is a pleasant, lively town less than 1 hour from Toulouse. Just like Gaillac, a dynamic commune with a colourful past, offering remarkable living conditions.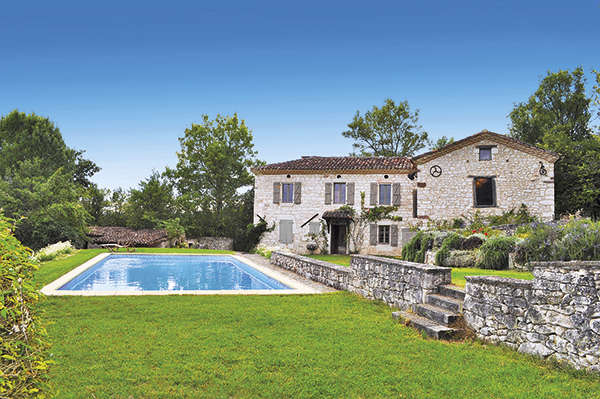 Close to Gaillac, this property is comprised among other things of a renovated house of 220 m2 and a "gîte" for paying guests, on almost 2.5 acres of land with a pool. 550.000 €. Barthe Immobilier (05 63 57 03 21).
The largest town in Le Tarn and the third largest in the Midi-Pyrénées with close on 50,000 residents, Albi is a busy economic and university centre with well-developed amenities. Though it is above all an address boasting an exceptional architectural heritage : first the stronghold of Catharism in the Middle Ages, then an episcopal city from the 13th century onwards, it is known as the "red town" due to the colour of the bricks trad­itionally used for building, and has an historic centre listed as part of UNESCO's World Heritage (comprised in particular of the Sainte-Cécile Cathedral and Palace of La Berbie). Albi is also the birthplace of Henri de Toulouse-Lautrec and thus plays host to a museum containing the world's larg­est collection of works by this post-Impressionist artist.
As for its housing, prices differ, quite logically, "depending on the property's closeness to the centre, but also the side of the river on which it stands : on the right bank of the Tarn, prices are much more affordable," explains Olivier Belhomme, a negotiator specializing in Albi for AG3 Immobilier, an agency opened in 2005 covering the "Golden Triangle" formed by Albi, Gaillac and Cordes-sur-Ciel. "In the case of apartments, the most sought-after are those with 3 bedrooms, a balcony, lift and parking facilities in gated residences, which are, of course, hard to find in the central historic neighbourhood. They are priced at 180,000 € more or less, depending on their distance from it." As for houses, demand is for single-storey homes of about 130 m2 (ie. 3 bedrooms), costing from 200,000 to 250,000 €, or more with a pool. Building plots of 1,200 m2 range from 80,000 to 100,000 €. "Our clients interested in Albi are people already living in Le Tarn, wanting to be closer to town - lots of English, in particular -, and others from outside the region aiming to be closer to their families, together with a few self-employed professionals and people transferred to the area."
About a 20-minute drive west of Albi (on the A68), one comes across Gaillac, a lively and leafy commune with less than 15,000 residents, also renowned for its heritage : once a flourishing river port, it owes its development to its vineyards and wine trade, in which the monks of the Abbey of Saint-Michel (a listed monument) played a vital part as from the 10th century. Today, "Le Gaillac" is a widely appreciated AOC offering a comprehensive array of wines.
"In the centre, old apartments which need freshening up are priced at around 1,000 € per sq. metre, while more recent ones cost from 1,300 to 1,400 € per sqm." says Brigitte Barthe, managing director of Barthe Immobilier, an indep­endent family-run agency based in Gaillac, covering a radius of up to 50 km around the town. "For the upper end of the scale, one can expect to pay about 2,000 € per sqm," says our expert, backed by almost 30 years of experience in the area. "There is a wide array of offerings, especially since the recent arrival of numerous properties with tax benefits on the re-sale market." Town houses range from 1,000 to 2,000 € per sqm, traditional "pavillons" in good condition from 150,000 to 200,000 €. What about building land ? "Plots of 700 to 1,000 m2 near the centre sell for around 100 € per sqm." Brigitte Barthe's clients are members of the local working population (often first-time buyers), rental inv­estors, foreigners looking for holiday homes with charm, and young retirees wanting to be closer to the town centre.
You will also like