A lush environment for the "Vallée d'Azergues"
Near the agglomeration of Lyon and Le Beaujolais, the Vallée d'Azergues is home to several villages lying between the forests and pastureland, along the river of the same name. An enchanting setting for fans of country living.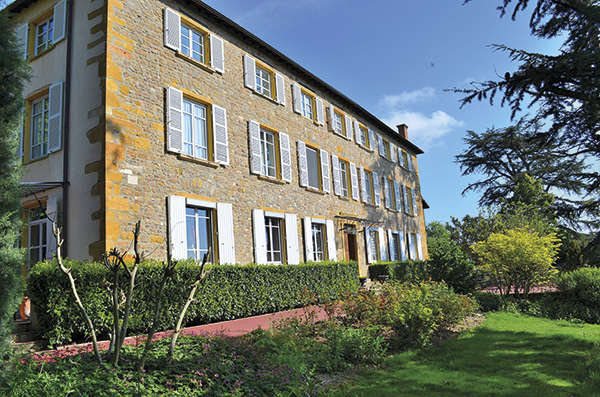 In Châtillon d'Azergues, this 18th-C. master residence is comprised of 13 main rooms. Renovated throughout, it is enthroned in the midst of a wooded park of 7,000 m2. 1.250.000 €. Primmo (04 78 89 05 60).
Since the A89 recently made the trip between Lyon and the Haute Vallée d'Azergues easier, several rural communes have begun to attract families from Lyon in search of space and nature. On average, property prices here are 25 % lower than those in the agglomeration of Lyon. Set on the hillsides, villages such as Chazay-d'Azergues, Châtillon-d'Azergues, Chessy-les-Mines and Lozanne are thus drawing 40 and 50 year-olds, often employed in Lyon, who enjoy devoting their weekends to hiking, cycling and horse-riding, as well as discovering local produce. A train station in the village is a real asset for young families, more careful about their budgets. They can set their sights on an impeccable 2-bedroomed apartment of 70 m2 with a terrace and garage for 200,000 €. Very enticing ! Especially as taxes are lower here than in the Prefecture of the Rhône.
"The closer these communes are to Lyon, the more buyers we see," says Luc Mettetal, manager of the four Primmo agencies in the area, including the one in Lissieu covering the zone bordering on Le Beaujolais (Chessy-les-Mines, Châtillon-d'Azergues, Saint-Germain-sur-l'Arbresle...) and as far as that of Le Val d'Azergues. From standard suburban houses to contemporary villas and lovely residences of character offering sweeping views, a good choice is clearly on the agenda. "Prices vary depending on the property's distance from Lyon, its energy performance, any renovation carried out, the decor and materials," adds our estate agent, giving a contemporary villa built of wood in 2005 in Chessy-les-Mines as an example. Offering living space of 125 m2 in a fenced and landscaped garden of 1,954 m2 with a 7,000-litre rainwater recovery tank, it is up for sale at 440,000 €. A high price compared to the rest of the market, justified by its quality construction and ecological materials guaranteeing good energy performance. Another outstanding property : a sturdy 18th-century resid­ence built around a tower dating back to the 13th century. Offering living space of 600 m2 in the midst of a park of 7,000 m2, it has been treated to total renovation which includes the latest home automation. Situated in Châtillon, it is on offer at 1,250,000 €. More generally, typical homes in the area consist of houses built of "golden stone" over towards the Beaujolais sector, and standard housing built in the 1980's and 1990's around Chazay-d'Azergues, with prices varying depending on condition. Among his recent sales, Luc Mettetal mentions a house of 125 m2 requiring renovation on the commune of Saint-Jean-des-Vignes. It was just acquired by a family from Lyon for 235,000 €.
In Villefranche-sur-Saône, capital of Le Beaujolais, Anne-Marie Sermolini and her partner Carole Ducet opened the Ain'dice agency in 2009. "Our clientele is mainly comprised of people working in Lyon or Villefranche. With budgets ranging from 300,000 € to 400,000 €, they are looking for pleasant family homes." Villas of 200 m2 in need of a revamp can be found from 300,000 €. Those with budgets of over 500,000 € can lay claim to the market for lovely old residences, full of charm and set at the heart of a wonderful environment, such as an old mill which just changed hands at 550,000 €. "Homes of character comprise the main offerings in our area. If they reflect the going market price, which is now stable, properties usually sell within six to twelve months." The catchment area of Caroline Poncet, manageress of the 109 Immobilier agency launched in 2009, consists of Le Bois d'Oingt, Les Pierres Dorées and La Vallée d'Azergues with, in particular, a fine selection of properties in Chessy-les-Mines and CChâtillon-d'Azergues. "Today's market offers genuine opportunities, such as an old wine-producing farmhouse of 140 m2 in 1,000 m2 of grounds. With its inner courtyard and several outbuildings, it is currently on offer at 190,000 €."
You will also like