A buoyant market around Tassin-La-Demi-Lune
At the gateway to Tassin La Demi-Lune, a number of villages are undergoing extensive urban development. Now linked to Lyon via efficient public transport services, they are drawing many Lyonnais in search of a pleasant family home between town and country.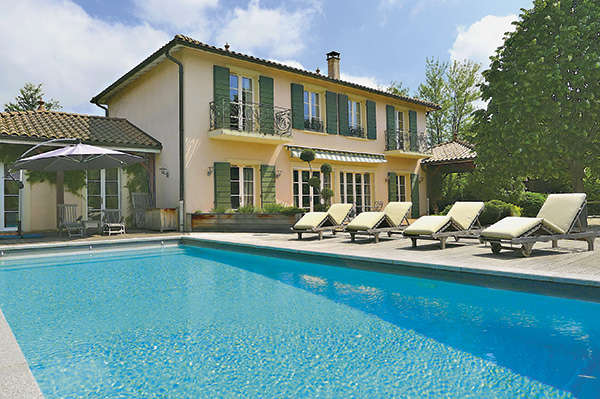 On the outskirts of Charbonnières-les-Bains, this villa of 272 m2 is comprised of 4 bedrooms and spacious reception areas. 980.000 €. Ouest Home (04 78 19 85 60).
At the Ouest Home agency opened 9 years ago, three out of every four sales concern Charbonnière-les-Bains. Awarded the "Villes et Villages Fleuris" label, this commune seen as "upper-cut" is popular among members of the working population : self-employed prof­essionals or executives employed by Sanofi. Here, over 70% of the residents are home-owners, usually benefiting from high disposable income. Families are especially drawn to high-end estates, such as that of "Les Hautinières". Based on a concept tried and tested in the USA, it consists of 200 villas sharing open green areas, including children's playgrounds. "Here, a house of 120 m2 with 3 or 4 bed­rooms can be had for around 440,000 €," says Béatrice Fabre of the Ouest Home agency. "Those of 200 m2 with 6 or 7 bedrooms cost from 580,000 to 620,000 €." Other desirable properties in the Charbonnière-les-Bains area are bourgeois residences with lots of character on Rue Jean Monet, the old silk-weavers' neighbourhood ; offering lofty volumes and often 2,000 to 3,000 m2 of grounds, they are worth around 1 million euros.
Just 5 km away, the commune of Craponne is also seeing a new wave of interest. As witnessed by several new devel­opments currently being marketed. "Of the 15 apartments we have been entrusted with marketing in "Le Florentin" - a light and airy residence with 49 units and the low-energy BBC label in the centre of Craponne - only four are still avail­able," comments Laurent Martins, who opened the Neo Immobilier agency with his wife Marjorie in 2008, based on the modern concept of tailormade assistance. These new apartments are proposed at 3,800 € per sq. metre. Older apartments post prices from 3,000 to 3,600 € per sqm. on all the communes around Tassin-la-Demi-Lune : Craponne, Grézieu-la-Varenne, Brindas, Brussieu, Francheville, Sainte-Foy-lès-Lyon, Saint-Genis-les-Ollières... With its shops and services, 2 crèches, 4 prim­ary schools and an intermediate school, Craponne is often chosen by families from Lyon, who sell their apartments in order to acquire or build a house in this area benefiting from the new LEOL express bus-line. Inaugurated at the end of 2013, it is a real time-saver, taking passengers to the Gorge-de-Loup metro station or Lyon-Perrache train station in about 30 minutes. A real blessing for people work­ing in Lyon ! "In the space of 6 months, we sold an entire lot comprised of about 10 building plots in Saint-Genis-les-Ollières. Offering surface areas of 600 to 800 m2, they were snapped up at prices ranging from 250,000 to 280,000 €. Including building costs, the total investment will be about 500,000 €," explains Laurent Martins, giving by way of comparison a lot of eight building plots from 500 to 600 m2 on the commune of Tassin-la-Demi-Lune, which sold from 400,000 to 420,000 €. The ring around Tassin-la-Demi-Lune offers an appealing diversity of accommodation, from first purchases in the form of new apartments starting from 150,000 €, to lovely bourgeois homes or villas proposed at market prices which have now become more affordable. As illustrated by a villa in Craponne, acquired for 430,000 € seven years ago, which has just changed hands at 380,000 €.
You will also like